Change IP-Address of the Ethernet 102 Interface.
The program 'Brainbox_E102_ChangeIPAddress.exe' is a simple tool that will give the software designers the possibility to change some of the network parameters of the Ethernet 102 Interface. The Ethernet 102 Interface must be connected to the PC-network and the power must be on. It is not permitted that there is already a connection made by another program to the same Ethernet 102 Interface.
The next network parameters can be changed:
IP-Address.
IP-Mask address.
Gateway address.
Data port number.
The program start with a general screen. First a connection must be made to the Ethernet-102 Interface by pressing the 'Connect to Ethernet 102' button.

In the TCP-IP connect screen the right IP-address and port number of the Ethernet-102 (V2) Interface must be fill in. It is not necessary to fill in the default network address and port. After pressing the 'Connect' button the program try to find the network device by pinging this address.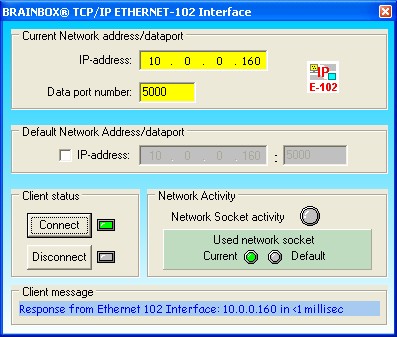 Press the 'Network Settings' button of the general screen. The next dialog is shown. Before changing one or more network parameters, first the 'Get data from E102-unit' button must be pressed. The program loads the current network settings from the connected Ethernet-102 (V2) Interface. If this process is finish the MAC-address is filled in. Now change the parameters that are needed and send the new settings by pressing the 'Send data to E102-unit' button.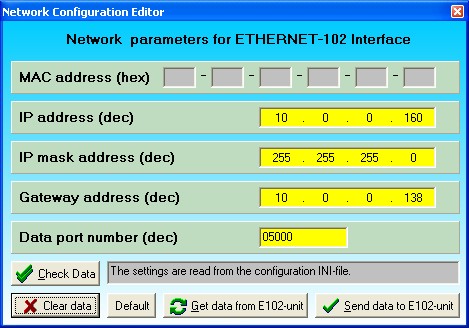 Now the programming of the new settings is ready, but the new settings wiil be active after a power-cycle of the Ethernet-102 (V2) Interface.
| | |
| --- | --- |
| | The software marked with the red text on this page is only tested in a Windows XP environment. Running these software programs under a Windows Vista or Windows 7 Operating System will give problems and is not recomended. |
For installation of the software two files are needed.
Brainbox_E102_ChangeIPAddress.exe (only tested for Windows XP OS)

This tool is only tested for WINDOWS XP, but in most of the cases it also works under WINDOWS-7. If you have problems with running this software tool under WINDOWS-7 please let us known, so we can try to solve the problem. (Contact Form)

Brainbox_E102_ChangeIPAddress.ini
---
© 2012 by BRAINTRONICS. All rights reserved.
| | |
| --- | --- |
| | |
| | THE PROGRAM IS PROVIDED BY BRAINTRONICS "AS IS" WITHOUT WARRANTY OR CONDITION OF ANY KIND EITHER EXPRESS, IMPLIED, OR STATUTORY, INCLUDING, BUT NOT LIMITED TO, ANY IMPLIED WARRANTIES OR CONDITIONS OF MERCHANTABILITY, FITNESS FOR A PARTICULAR PURPOSE AND/OR NON-INFRINGEMENT. THE ENTIRE RISK ARISING OUT OF THE USE OR PERFORMANCE OF THE PROGRAM AND SUPPORT REMAINS WITH YOU. IN NO EVENT WILL BRAINTRONICS BE LIABLE FOR ANY LOST PROFITS, LOST SAVINGS, LOST REVENUE, LOST DATA OR FOR ANY DIRECT, INDIRECT, INCIDENTAL OR CONSEQUENTIAL DAMAGES, EVEN IF BRAINTRONICS HAVE BEEN ADVISED OF THE POSSIBILITY OF SUCH LOSSES OR DAMAGES. IN ADDITION BRAINTRONICS WILL NOT BE LIABLE FOR ANY DAMAGES CLAIMED BY YOU BASED ON ANY THIRD PARTY CLAIM. |
---